Environmental Guru & Weather Geek
---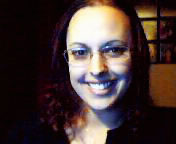 JENNI
aka LilFerret
---
---
Looking to Hire?
I'm a claims adjuster at a Southern California insurance company, looking to move into employment in the Northen California areas of Sacramento or the San Francisco Bay. I am a full time college student going for my BA in Geography, and plan to get an MS in Environmental Studies and a PhD in Climatology. I would love to find a position to get my foot in the door with a company looking to make a difference!
---
ADDICTED TO STARGATE OR SANCTUARY?
If you share my love of the shows please contact me! My email is at the bottom of the page and there are also a couple of links below to my art.
---
---
JENNI'S FRIENDS
---
JENNI'S INTERESTING LINKS
---
Looking for something on the Internet? The fastest way to find it is with a search engine!
Click on this link to go to a Search Engine Page.
---
You've reached Jenni's Home Page... Thank you for stopping by, and I hope to see you again!
---
Copyright © 1997- 2010 Jenni Cole
Last updated: 17 February 2010